One funny story about Scotty Holden will never be forgotten by his bandmates. Being the ever-frugal Scotsman, Scotty was not adverse to using a pair of undershorts long past their normal life span. When the elastic band wore out, this did not prove an obstacle to the continued use of the shorts with a pair of trousers. Scotty had unfortunately not considered the repercussions of wearing a pair of such well-traveled undergarments with the kilt. Is this why some band's require members to go "regimental" in uniform??!!

At any rate, in the band's first parade at Morristown, NJ, in 1996, Scotty set off with the band down the parade route. Not one quarter of the way down the road, Scotty disappeared from the ranks to the inevitable cries of "piper doon." Later we learned that the offending shorts had begun to head south as the line of march moved along. Not one to be caught with his shorts around his ankles, Scotty hurried to a parking lot along the route, shook off the troublesome briefs, kicked them under a parked car, and went on his merry way back to the ranks. Needless to say, this story was frequently retold at band parties and barbecues.

Copyright © Castle Dangerous 2000. All rights reserved. Not for dissemination or other use without the expressed, written permission of the author.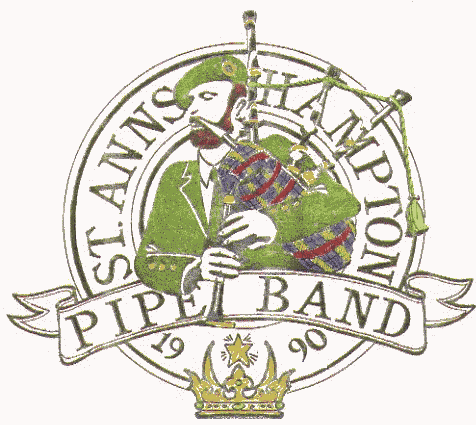 The Original Band Symbol
A proud tradition lives